Address: Jyväskyläntie 214B, 41660 Toivakka, Middle-Finland, Finland
Cold and warm water. Good quality water
1 bedroom with double bed
1 extra bed or children's cribs, optional, book in advance
Pets allowed with separate request
Villa Paasirinne B offers a high-quality accommodation service in Toivaka in Central Finland. The Villa B site has been renovated into a modern octagonal house for the use of **** vacationers. There is 60m2 of space in the house on one level and an outdoor terrace, there is accommodation for 2-4 people. The living room kitchen has all modern appliances and an atmospheric wood stove, as well as a TV, radio and DVD and an air heater, underfloor heating in all rooms. In the bedroom, a double bed, a desk and an armchair, and blackout curtains on the windows. Sauna, washroom and toilet.
In the open, well-maintained yard area, there are plenty of bushes, perennial groups, lawns and trees that provide visual protection to the surrounding area. In the yard, two patios, sheltered from prying eyes, on the other is a group of equipment and sun protection. On the second patio, an atmospheric barbecue hut with dimming lights and an open fire grill and versatile food preparation equipment. Outside, a group of equipment, a smoking area and perennial plantings and berry bushes and herbs. Free use of sunbeds. Leppävesi-lake is close by, approx. 50m, a rowing boat on the beach, a nature trail leads to the beach. Free use of life jackets and fishing rods. As an additional service: electric outboard motor in use. The local road runs between the lake and the house, bushes and trees provide privacy for sitting areas and patios.
Come in the middle of beautiful nature and enjoy the peace of nature and all the comforts at the resort, as well as the harvest of the kitchen garden in the summer, which are available for you. Also nearby are various nature spots for exercise, with marked routes and shelters as resting places. Paasivuori is next to it and there is a forest road, a suitable exercise destination, and during the berry season you can collect various berries and mushrooms by everyone's right. See more local sport spots: toivakka.fi), Leivomäki National Park 27km, Jyväskylä 27km.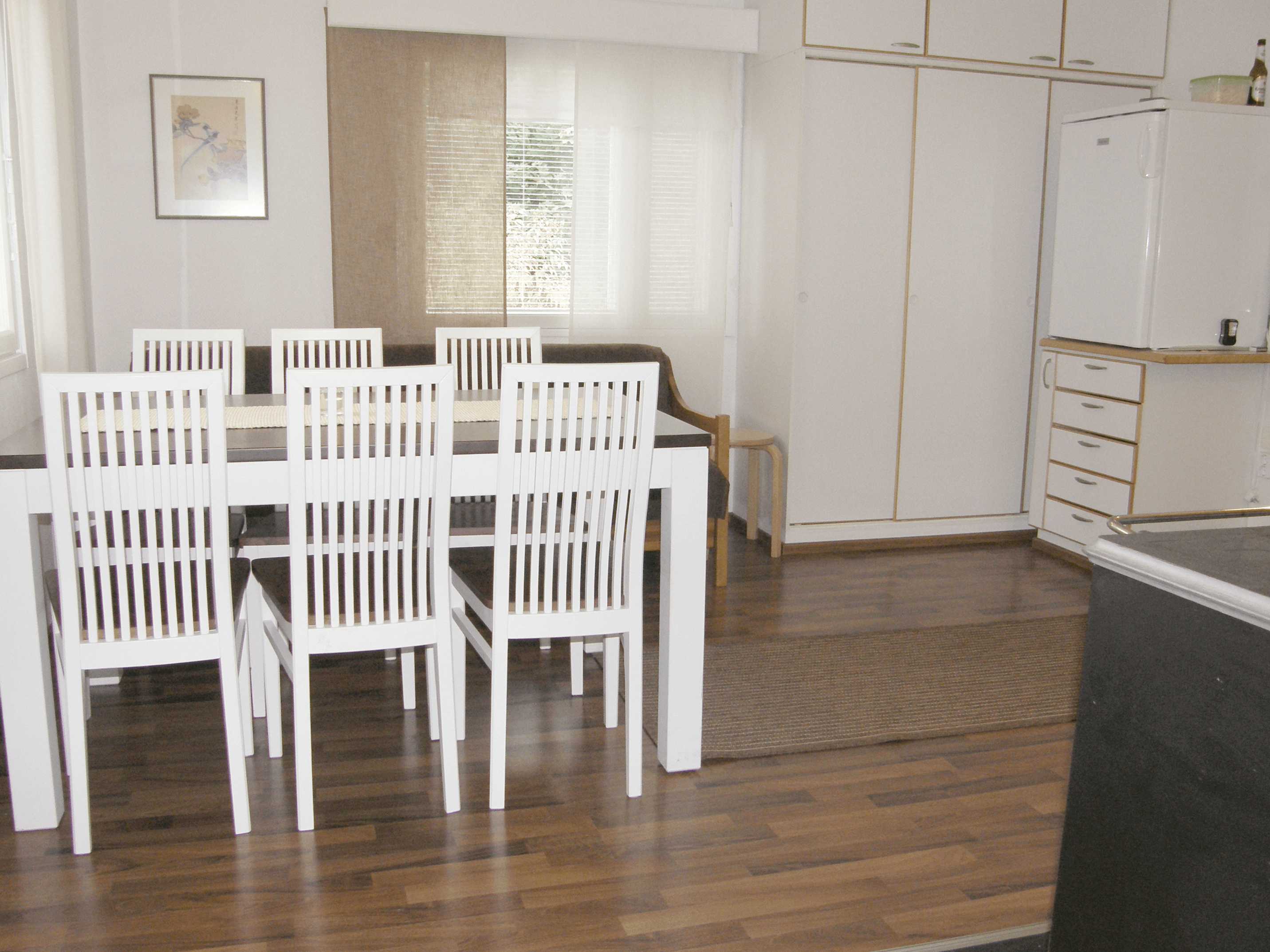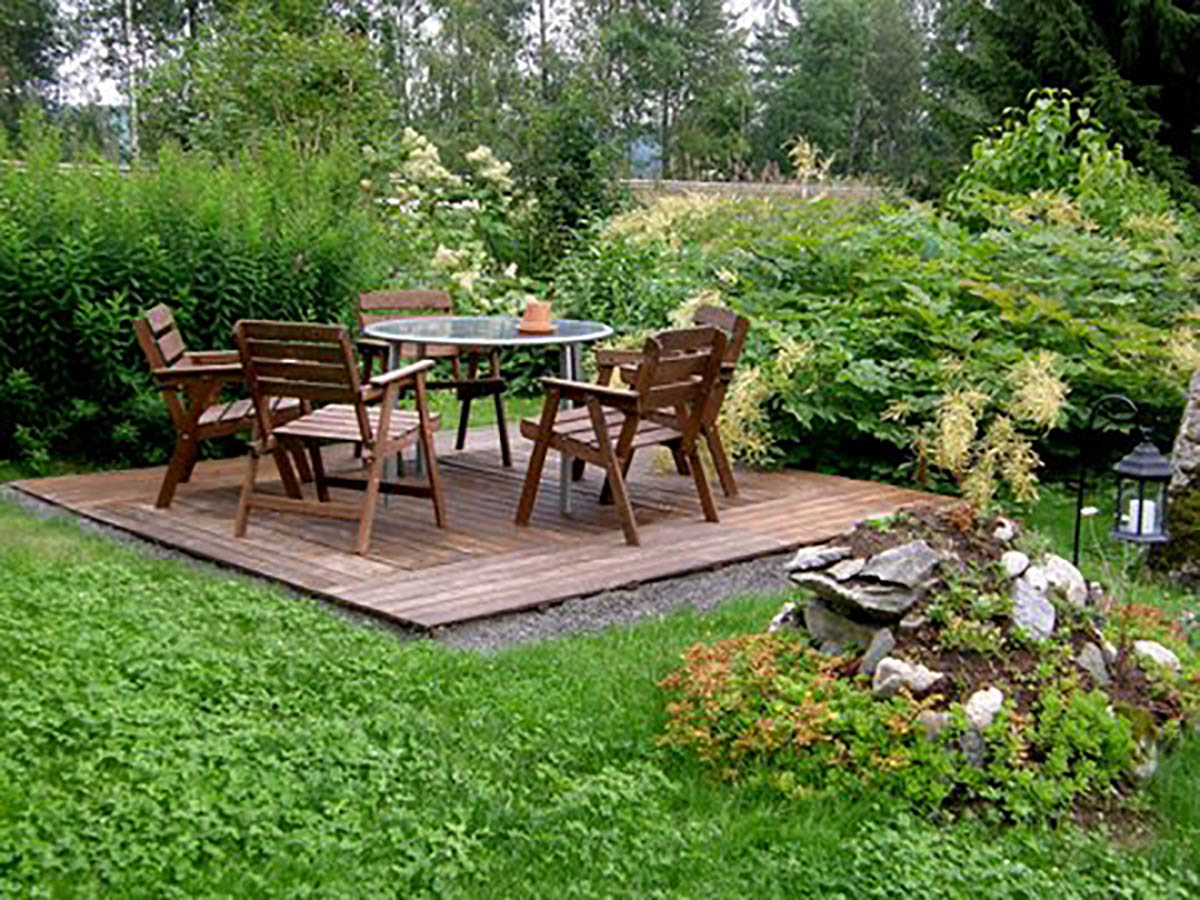 Lomakoti Paasirinne B_web
B-kohde: tupakeittiö, joulu
Villa-paasirinne-B_edestä_1308-1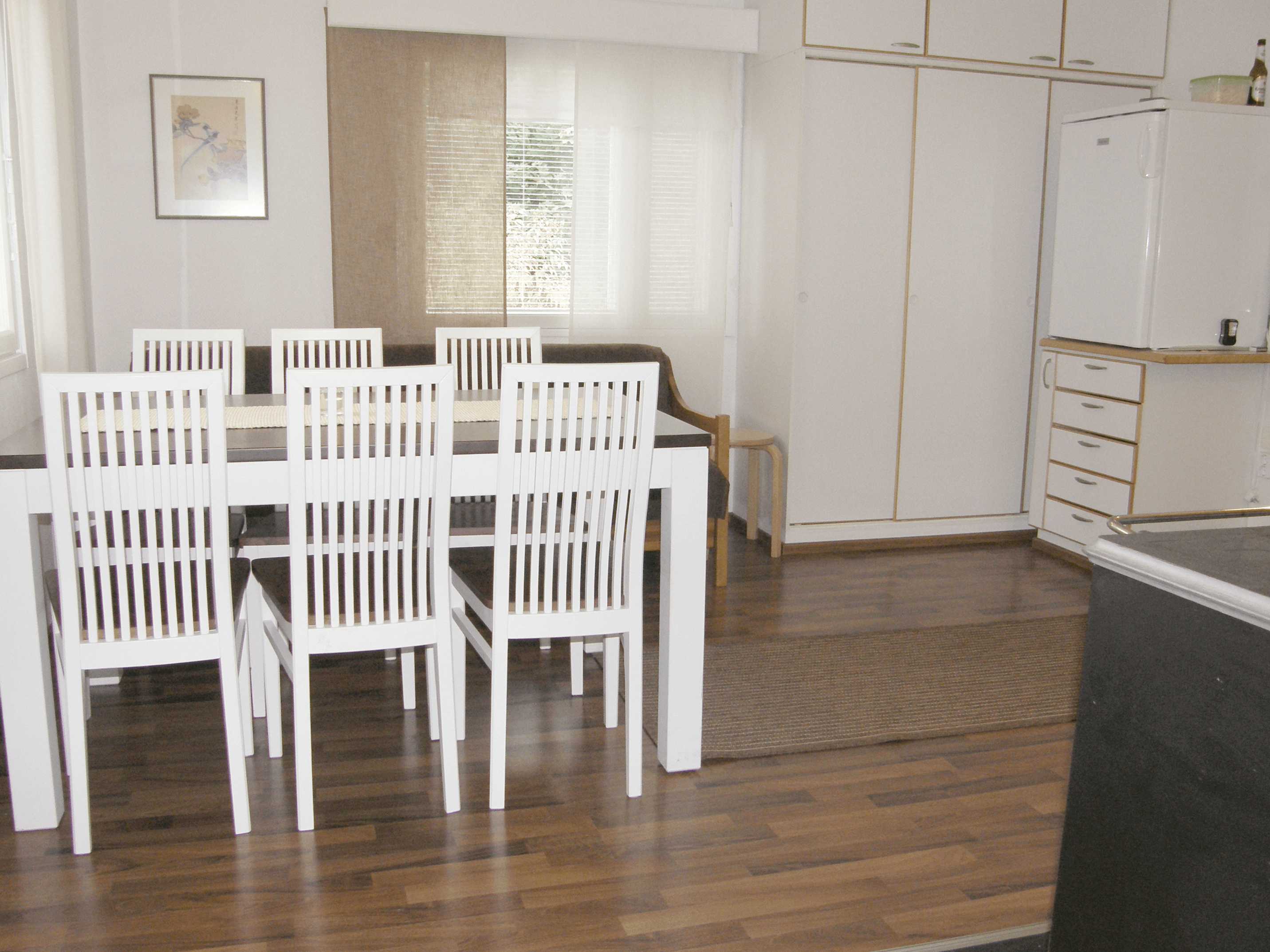 Bed linen, towels and sheets
Electricity: lighting, underfloor heating
The air heat pump cools and heats as needed
The water comes from our own borehole. Good quality drinking water.
TV, radio, DVD player
Electric and wood stove with a small baking oven
A fridge and a freezer
A microwave oven
Crockery for 6 people, good and versatile cooking utensils
Dishwasher
Washroom, shower, toilet, washing machine
Electric sauna
Iron and ironing board
Various board games
Folders, user manuals for household appliances and bulletins, as well as brochures for the locality and the surrounding area.
Powder fire extinguisher and extinguishing blanket and first aid instructions
Smoking is prohibited in all indoor areas
Terrace with table and chairs
Patio with table, chairs and sunbeds
A barbecue hut on the second patio and a smoking area
Heating sockets for cars
The site has a biocompostor and a mixed waste container
Rowing boat and life jackets for adults. Outboard motor in use for the boat.
Cleaning tools and substances. Instructions can be found on the site. Final cleaning is included in the price.
Ash bucket and sheet pan for ashes
© Copyright 2020 Villa Paasirinne